Okinawan Americans come from Hawaii to play the sanshin at a requiem held at the Miyamori Elementary School Memorial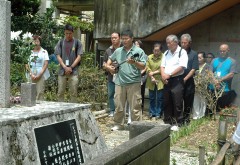 Third generation Okinawan Americans from Hawaii play Okinawan folk songs at the memorial service held at the Miyamori Elementary School in Uruma City.
June 5, 2011 Ryukyu Shimpo
Fourteen Hawaiians originated from Okinawa, including 36 year-old Norman Kinjo visited the Miyamori Elementary School in Uruma City on June 3 to attend the memorial service held for the victims, including 11 children, killed in the June 30 1959 crash of a U.S. F-100 fighter from Kadena Air Base. At the memorial of Nakayoshi-Jizo or Good Friend-Jizo (protector of deceased children) on which the names of the victims are engraved, they offered prayers to comfort the spirits and sang an Okinawa folk song to the accompaniment of thesanshin. Mitsuteru Toyohama, the president of the Ishikawa-Miyamori 6-30 Association, guided them around the scene of the accident. He said, "Those who were killed would have been pleased with their visit."
Kinjo, Erick Wada and their colleagues performed three songs, including Tinsagunu hana with vocals and sanshin accompaniment at the memorial service. Erick is a member of the Ukwanshin-Kabu-Dan in Hawaii. "Sightseeing is all very well, but we can't gain a real understanding of our roots in Okinawa if we don't also look at the deep sadness that sits in the background," said Kinjo.
When the "Iha Four Sisters" Okinawan folk music group from Ishikawa in Uruma City toured Hawaii last December, Kinjo and others learned about the tragedy of the plane crashing into Miyamori Elementary School. Kumiko Iha, now 62 years old, but just a fifth grade girl back then, accompanied the young visitors from Hawaii on this trip. She was impressed that, "I told them just a little about it, but they were very interested in the incident. I actually learned something about Okinawa from them. They are wonderful, just like their fantastic music."
(English Translation by T&CT, Mark Ealey)